Delicious soft shell crab in New Orleans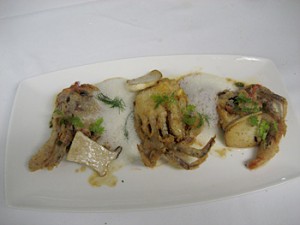 I'm not going to beat around the bush – a lot of the food in New Orleans is not to my taste. I'm taking about fried starchy things which to me have no reason for being other than to add unnecessary calories to one's diet. That said, some things stand out from my recent visit. Lunch at August restaurant, situated in the CBD in an historic four-storey 'French-Creole' building dating from 1800, voted 22nd in Gourmet Magazine's Top 50 American restaurants, with John Besh at the helm – named Best Chef of the Southeast by The James Beard Foundation in 2006 – put a smile on my face. It was the start of the soft shell crab season – it runs for 3-4 months – and as I was an early diner (in the door, starving, before midday), I was the first to order the first of the soft shells! Besh had them coated in a light crisp tempura-style batter, panfried, with white trumpet mushrooms, topped off with ginger foam, and a few sprigs of dill and chervil, served with fava beans, spring peas and sugar snaps. My dining companion Dalyn gave me a forkful or two of his flaky ling in browned butter with capers and lemon confit. All perfectly executed. We preceded this with a warm spring vegetable salad of spring peas, fava beans, slivered snow peas, sautéed white scallions, mizuna leaves, parmesan crisps and crisp porky bits of cherrywood bacon. The piece de resistance was the tiny poached egg on top of the salads. You may wonder why I ordered two dishes with spring vegetables. After all the fried food, white bread, mayonnaise and other unmentionables I had been served up during the week I was in New Orleans, I was desperate for vegetables and salad. August didn't disappoint.
August
301 Tchoupitoulas Street
New Orleans, LA 70130
504-299-9777 
 
And the place to stay in New Orleans?
Loews Hotel
300 Poydras Street
New Orleans, LA 70130
504-636-3300
where you can enjoy great cocktails in the airy bar, and above-average food in the hotel's café, Cafe Adelaide.

Tags: August Restaurant, French Creole, new orleans, soft shell crab