Queenstown – a great food destination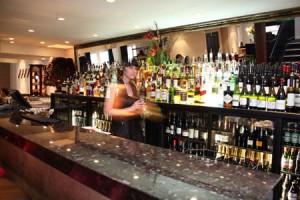 I've just had a gorgeous spring weekend in Queenstown. It used to be the place to go for extended skiing weekends, or, late summer for a wine crawl, but it most definitely now stands alone as a great food destination, too, – it's HOT! Taste magazine held a reader's dinner at Lake Hayes' Amisfield Winery, about 10 minutes' drive out of Queenstown. After salmon nibbles and bubbles we were seated indoors with a fire roaring away, but the days are getting warmer, and the outdoor elongated dining courtyard set around a water feature is the place to be in fine weather. The high altitude, cool climate and long summers of Amisfield's vineyards help winemaker Jeff Sinnott produce a classy Pinot Noir. The 2006 vintage teamed with a superbly cooked roast of highland beef on a creamy mash of white beans and chard executed by Exec Chef Jason Innes went down a treat. This was preceded by a carpaccio of crayfish with NZ grapefruit, tiny asparagus points and a drizzle of extra virgin olive oil – light, spring-like and divine matched with Arcadia Brut NV. The award-wining food at Amisfield centres on locally grown food, much of which is organically grown. Flavours are fresh and uncomplicated. Remember to book, and, be aware that the restaurant is only open for lunch or early evening dining.
Lucky old me, I stayed in luxury accommodation: Alta Vista, a 3-bedroom serviced apartment managed by Touch of Spice. Situated high above Queenstown, with to-die-for views looking out over sparkling Lake Wakatipu framed by majestic snow-capped mountains, it's a brisk steep walk to the centre, but just a 3-minute car ride back up the hill! It is, I decided, good for the soul to stay in such a place, the air as crisp as an apple, the food a treasure-chest of irresistible goodies, and the wine imminently drinkable.
Touch of Spice is a relatively new company specializing in personal concierge services available at 14 stunning homes they manage in the Queenstown area. A personal chef is available to come and cook for you, or you can be left to your own devices. Guess what I chose? Yep, that's right, a personal chef – for one night anyway! Along with Taste magazine's editor Suzanne Dale and husband Dennis, we supped on a truly memorable dish of scampi which had been split and grilled, followed by lightly cooked venison washed down with local wines. All we had to do after dinner was toddle off to bed – no dishes, no driving. Bliss.
But you couldn't keep us out of the heart of Queenstown for long – we were headed to the newly opened Botswana Butchery to taste the fare of chef Leungo Lippe. Located in the historic Archers Cottage at 17 Marine Parade just metres from the shores of Lake Wakatipu, the restaurant is cuter than cute, with an assortment of tables and seating, leather couches and cosy nooks, including grand dining chairs in plush fabrics, and colours of hot red, lime green and warm gold. Don't worry – it's harmonious, but interesting and stimulating. Cleavers seem to be the thing, embedded in the main door as a handle, arranged as an art installation on the wall and shaped into tuille biscuits served atop small squares of layered cake. The menu. Here's the thing. My heartbeat rose at first glance – I could have chosen any one of the eight starters, and likewise of the 8 main courses. I settled on Westcoast crayfish springroll with coriander, tamarind aioli and petit salad, followed by roasted duck confit of duck leg, puy lentil and shiitake mushrooms, buttered spinach and thyme jus. I could just as easily have chosen tart tatin of celeriac, leek and potato, marinated Mediterranean vegetables, lime and herb mascarpone and celery pesto – a great vegetarian option. How we managed dessert is a mystery. I think the excellent Pinot Noir must have helped the digestion!
As is my tradition, we made a stop next morning at Joe's Garage for a late breakfast. If Botswana Butchery is exceptional and classy dining, Joe's Garage then is homely, slightly grungy, but with just the right smells of freshly ground and brewed coffee, fried bacon, sizzling tomatoes and toast. It draws in the punters time and time again.
Queenstown is an ever-changing hub of gastronomy and viticulture. I leave all those bungey-jumping and white water rafting adventures to the tourists and those snow-capped mountains and ski-fields to the fleet of foot. My pursuit is…well, you already know, great food and wine, and there's no shortage here.
For further information on Queenstown – www.queenstown-nz.co.nz
Tags: award-winning food, dining, fresh flavours, great food, great wine, organic wine, Queenstown, vineyards, wine