New York Dining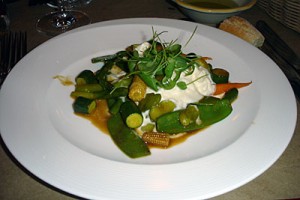 Last night we decided to eat Indian. It may seem a strange choice for New York, but is it? In a city where you can eat anything, why not dahi puree, peas and paneer or a masala dosa? Off we headed to a place with plenty of recommendations we'd pulled off the internet. Found it easy enough, and in we walked but something made my spine stiffen as we entered. It was 8.00pm but not busy. I was seated yet again on a banquette, but this one was terrible. I was dwarfed by my partner sitting straightbacked on a high chair. With my breasts threatening to rise and fall in a plate of rogan josh I felt miserable. Partner suggested swapping seats. That made it marginally better, except now I had to sit upright like a giraffe while he sloped. I was twitching, like a caged animal, sensing danger. Then the menu came and the reason for my ill ease registered. The smell when I walked through the door reminded me of a hospital, not a restaurant – disinfectant! There were no cooking smells at all. For an Indian restaurant this is unusual: a good one fair reeks of spices, onions, chillies and ginger and a fair commotion can generally be heard coming from the kitchen. As soon as I saw 'fattoush' and 'parmigiano' on the menu (I kid you not) I baulked. Now fattoush as a salad might eat quite nicely with Indian food – I've no idea – but I didn't want to find out. We excused ourselves politely and fled out the door as another waft of disinfectant filled our nostrils. A backward glance at the chef, arms folded over belly standing in the kitchen with nothing to do, convinced us that we had had a lucky escape.
The rules: if a restaurant is empty at prime dining time, there's probably a very good reason – the food is bad. If the chef is visibly not cooking in the kitchen it probably means the food is all prepared ahead ready to be microwaved when ordered, or worse still, if you can't smell food it's possible the food was trucked in from somewhere else. If the seating is uncomfortable at the beginning of the evening, think of how it will be in one hour's time. If there are matches on the menu that don't pique your curiosity and sound bizarre, the chef probably doesn't know his onions from his scallions, and if the place smells of disinfectant – RUN!!!
Breathing the fresher air out on the street, while waiting for a cab to transport us some place else, I idly puruse a menu posted on a restaurant window right where we are standing. It reads well. Italian. Burrata on the menu. Homemade pasta and lots of fish. We stuck our noses in. It was busy and buzzy. It smelled like my Italian mamma's kitchen. We wanted 'in', but we decided to hedge our bets. We booked a table for 8.30 then quickly walked one or two blocks along to check out a Spanish tapas bar which had been our second choice of the evening. It was pumping, lively and loud, full of the glorious smells of sizzling shrimps, garlic, red wine, and fried croquettes. We wanted in here, too. But we made the decision to book it for lunch the following day as the table offered was tiny and the space crammed, and to return to the Italian spot for dinner. What a great choice. We had lucked in on two exceptional restaurants. Let me share them with you so you know where to get good food next time you're in New York
Tarallucci e Vino
Union Square 15 East 18th Street New York
Tel 212 228 5400
I could have had the sage fritters with anchovies, or the spinach and red endive salad, capra verde, walnuts, pear and white balsamic vinaigrette, or the crispy fried hazelnut crusted goat cheese, roasted beets and walnut vinaigrette, but I didn't. I couldn't resist the burrata cheese – call it an addiction if you like – served with a warm vegetable salad and orange glaze. It was a little bit soupy, with tiny nuggets of zucchini no bigger than a skinny fingertip, slim asparagus, snow peas, fava beans and baby corn. And in the centre, a melting white lava of burrata. To die for?



Just about. The pointy little bread rolls brought to the table first hadn't just been reheated, they had been cooked to order and were magnificently crisp and the sesame seed focaccia tasted of gorgeous fresh sesame seeds (as opposed to rancid ones). These were served with a fresh green and fruity thick olive oil. My dining companion ordered the carpaccio of beef with braised fennel, arugula, mustard vinaigrette with a parmesan mousse and a sliver of croquante. The mousse was much firmer than expected, very buttery, but the lingering flavour of aged parmigiano, without any fustiness, made up for it. The dish as a whole was overwhelmingly savoury, sending all the umami taste buds into a frenzy.






Mains were duck pasta, made with layers of pasta sheets and rich chunks of duck sauce – pronounced 'divine' by dining partner (he didn't share, mind). I ate all my lamb, too, a roasted rack with fava beans, roasted cherry tomatoes and a fresh buttery oregano emulsion. Rich and tasty, the meat was cooked to medium-rare, although a little rarer near the bone. As good as it was, American lamb (and I generalize because I can) does not compare with New Zealand lamb, the latter being sweeter, less fatty and not as gamey. We had to pass on the cheese course, but next time we'll leave room as the choice of sheep, cow and goat cheeses, served with the likes of acacia honey, green tomato mustard, pumpkin ginger compote, Lambrusco jelly, lavender honey and plum or pear mustard sounds like a delicious meal all on their own.


Details about our Tapas experience next!
Tags: dining, Italian, New York, Selecting a Restaurant