A Pav for Pav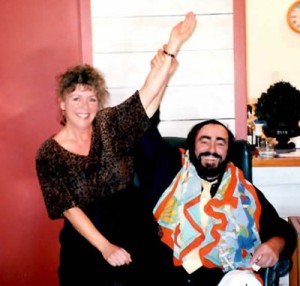 Chapter Ten (Dancing on My Table)
It's 8 am on a Monday morning. Friend and colleague Jo Seagar is on the line. Could I – would I? – cook for Pavarotti? Now settle down Jo, this is the sort of thing that causes stomach upsets. But down the line come the words 'what with your Italian connections . . .' Not one to give a lot of notice, Jo tells me the event is on Wednesday. There's no time to think about it – I'm doing it.
She advises me to keep it simple. A ham on the bone, perhaps, some salads, that sort of thing.
The idea of a ham on the bone ticks away in my head – the irony of serving this to a man who was born and raised in Modena, a city in Emilia Romagna, a pork-eater's paradise, appeals to me. If he likes it, it'll be a hit.
Then I remember the Seville oranges some kind viewer of Breakfast TV sent me. I've been wondering what to do with them. I'm not a marmalade maker. It's a bit like knitting, I mean to do it, but it's always better when someone else does.
Seville oranges with ham. Bet he's never had that. Italians in my experience are usually unfamiliar with glazed ham as we know it. This could be because their ham is so excellent that they don't need to add anything else to it. I'm not going to dwell on that because a glazed ham is a thing of beauty. My Italian family have absolutely fallen over themselves to scoff it up when they've come to stay with us in New Zealand. Most Italians don't go too much for the sweet, fruity flavours we so often put with meat, and that's why the Seville orange is so appealing. Freshness, but with underlying bittersweet flavours, cutting the richness of the sweet ham fat, the juice soothing away the saltiness . . . yes, yes, I'm getting a mouth-taste for it. I've got two hours to decide on the menu, get it back to Opera New Zealand for approval, order the main ingredients and get on with it.
Now I've got something important to say here, so listen up. There's going to be no more calling Pavarotti, well, Pavarotti. None of that Luciano lark either. He is Signor Pavarotti to you, and to me (or Sig. in writing if you wish). Address him correctly because that is how he would like to be addressed, please. Give the man respect. What you should really call him is Maestro, though he would never demand it. There are not many lectures in this book, but this is one, so take heed.
Lunch is for thirty, Wednesday, any time after noon, about 45 minutes drive out of Auckland at a horse stud. Sig. Pavarotti likes horses. He loves horses! So members of the horsey set (I adore using that phrase) will be coming to lunch too. I call in Claire Aldous, longtime friend and superb helper, and Remo, of course. Claire was my top student in the first intake of students at the New Zealand Cordon Bleu Cookery School in 1982. She then worked at La Dolce Vita for a couple of years and has assisted me on catering jobs and at cookery demonstrations around the country, and at practically every book launch I've had. She's never done anything quite this important though . . . and neither have I.
I definitely want Sig. Pavarotti to try New Zealand lamb. We use small racks of lamb, well trimmed, and cut them into cutlets. All I do to them is mix some extra-virgin olive oil, Dijon mustard, slivered garlic, supple rosemary spikes and freshly ground black pepper together and leave the cutlets in this for an hour or two before cooking briefly over a very hot barbecue. Well, before Remo cooks them briefly on the barbecue. They are then salted, and generously too. Most people are too timid with the salt when it comes to meat. Here's the rule: the bloodier the meat, the more salt it requires. Venison, or New Zealand cervena, is the leanest, reddest meat, and then you work your way down through beef, lamb, pork, chicken and fish. Quite often fish needs the merest pinch. But serve a bloody steak without salt and what you taste is blood. Add salt and the whole thing develops a savoury flavour. It's not magic, it's science.
The day looms. We shop, chop and cook on the Tuesday. The ham looks magnificent. When we arrive at the Clevedon Horse Park we're ushered into the kitchen of a private home. We're informed that Sig. Pavarotti may not eat anything. Oh, the deflation, though I'm pretty sure if he smells the cutlets on the barbecue, he'll eat all right. Timing will be the thing, then, making sure the air is filled with that nose-teasing smell of garlic, rosemary and charring lamb.
Claire and I are not saying much to each other as we set about the million tasks of getting everything just right. Remo is organising the barbecue and drinks and the morning is proceeding well. We're told that Sig. Pavarotti will go straight to the arena to look at the horses, then depending on how he feels, he may stop for something to eat before leaving. All the guests, including athletics star John Walker and ex-All Black captain David Kirk, are milling around the arena waiting for the big man to arrive. But things don't always go according to plan, do they?
I've just put the ham on the lunch table (the table is covered in mock grass, if you please, with an important horsey trophy in the middle) when there's a flurry of activity outside and several cars pull up. Ohmigod, it's Pavarotti! We fly into a flap. The barbecue is not even lit so Remo instantly hits the gas. Claire and I inspect each other's lipstick and shoulders for stray hairs. We look all right, but our hearts are thumping. Still, he'll probably go straight down to the arena. But no, silly me, I'm informed he is coming in with his entourage for a five-minute comfort stop. I don't know where the comfort stop is, and nor do the guests, but next thing in he strides, just like that, the Maestro himself, surrounded by several other very important people. There is nothing to do but to introduce ourselves. Heavens!
The feeling of not quite being ready is like getting caught in your bathrobe when people arrive early for dinner. But a Maestro has to eat. I'll give you a quick snapshot of what is going on here. We're just south of Auckland, in beautiful lush country, with rolling verdant hills and fresh clean air, in a smallish house they call a ranch, which looks out onto horsey-type things (well I don't know what you call them, stables, sheds, saddles). The ranch décor is traditional New Zealand farmhouse, nothing ostentatious, a mix of tastes and styles, and the kitchen is open plan and clean. I shouldn't think Sig. Pavarotti has been in such a house before. He gives it all a quick sweep with his dark eyes, takes us in as well, then his eyes rest on the ham. The eyes widen.
'What is that?' he demands to know. 'A ham? A whole prosciutto? But what have you done to it?' And so I am drawn into conversation, which quickly lapses into Italian, with the great man. There is no way he is leaving without having a slice of it. Damn the presentation, I grab the knife and slice him a piece. He takes it off the carving fork, there's no ceremony here, and pronounces it magnificento! then gives me a warm hug and asks for la ricetta, the recipe. A little snack turns into a bigger snack while he quizzes me about the ham. 'Ah, arancia di Seville, e senape,' Seville oranges and mustard. The horses can wait; Sig. Pavarotti is chatting with me and having a love affair with my leg of ham. Before you know it, everyone is tucking in, wedging slices of moist ham between crusty ciabatta bread. While they munch on an early lunch, Claire and I carry on, shucking Clevedon oysters, peeling avocados, squeezing limes and trying to look unfazed and unpanicked.
I feel that he and his personal Peruvian chef are scrutinising us (I have already been vetted on paper before getting the job), checking us over for cleanliness and foodhandling skills – is there a risk factor here, anything likely to make the Maestro ill? Or is he just watching us, amused twinkle in his eyes, simply because he loves good food and can't take his eyes off it?
The lunch is half served, half nibbled at, when Sig. Pavarotti leaves with his minder to go to the horse arena. Our schedule is thrown on its ear, but somehow we reassemble things and carry on. Then the minder returns and snaffles Remo at Sig. Pavarotti's request. The Maestro wants Remo in the car in case he needs help interpreting. I've never seen a pinny flung off in such a hurry! He stays in the Pavarotti-mobile, a leather-seated Audi, for over an hour chatting about horses, soccer and I don't know what else, while Claire and I carry on, one man down as it were. Claire takes over the barbecuing, bless her.
The assembled guests are getting a bit disgruntled because the schedule has been changed and they've been waiting at the horse arena for some time now. Sure, they can see Sig. Pavarotti in the distance, but he's staying ensconced in the car. Two things a singer doesn't want before giving a performance, and he is here to sing at Ericsson Stadium after all, are a throat infection and food poisoning. The day in question is windy and dusty and sensibly he stays in the car protecting his throat. I bet any of the minders had seen anything suspect in our food preparation, they wouldn't have eaten a thing. Next thing, the guests traipse into the ranchhouse, unannounced and sidelined, for lunch. So we feed them.
I'm not sure what they think of us, nor what Sig. Pavarotti thinks of us, when Claire and I traipse across the dusty arena, missing flying filly hooves and dislodged tumbling jump poles, carrying a tray with a piping hot Moka pot (the sort every Italian family has at home) of coffee, cups, sugar, and a plate piled high with crisp meringues, cream and raspberries. They probably think we're mad. But is he grateful? Best cup of coffee he's had in town, he tells me. Later, in the kitchen, he checks out the brand. 'I knew it,' he says. 'Lavazza.'
When I was planning the menu, I couldn't resist the play on words of
making a pavlova for the great man. This was when I still called him Pavarotti. It seemed a bit tacky, but I have an idea that meringues, which I personally love, will do the trick and showcase our luscious fruits and rich cream. Of course he wolfs down two or three while I hold the plate for him. His chef threatens to steal the rest.
Back in the ranch the murmurs of disappointment have died down; they haven't met Sig. Pavarotti but they've had a gorgeous lunch and they're happy as they commiserate with each other. The rumour is that the guest of honour will simply roar off into town without coming back to the house. But I know better. He's told me in Italian that he'll be back for more food later.
David Kirk and John Walker have eaten their fill and are about to leave when the Audi pulls up. You should have seen how fast they do an about-turn and reposition themselves at the ranch!
They all pile into the house, Sig. Pavarotti heading straight over to me in the kitchen. I offer to dish him up some lunch. He wants some of everything except the oysters (a man after my own heart). I can tell you that chatting with Luciano Pavarotti in the kitchen while he eats my favourite hot-smoked salmon dish with slices of our gorgeous rich and nutty Hass avocados, spiked with limes and fresh red chilli, and asks me the details of how the dish is made, is one of the highlights of my cooking career. We lean on the kitchen bench together, as natural as you can get, just two people chatting, comfortable in each other's presence. Not only did he eat my food, but he ate with relish, had top-ups and asked for the recipes. I didn't get to cook for Clinton. I've never fed the Queen either. But I cooked for the ugola d'oro, the golden voice.
Excitable woman that I am I fling my arms around him and give him a bear hug – he's very huggable (no point wishing I had done so later on) – and a signed copy of my book . . . and then, tongue in cheek, I ask him if he will sign another copy of my book for me. Autographs don't get much better than that! Then, cheekily, I ask if he would mind having a photograph with me. 'Perche no?' he replies. Why not? This starts a bit of an onslaught, but one that he encourages. He offers to sign anything for anyone and invites everyone to take turns perching on the chair with him for photographs. He's having a good time and is in no hurry to go. The only thing he doesn't do is sing for us, but later that week when I sit and listen to his performance at Ericsson Stadium I feel sure he's singing just that little bit better because he's had a good time in Auckland!
At the end of the day I feel elated, not because I have met such a great man, but because he has let the veil down, dropped his barriers. Yes, he's king-like, superstitious and temperamental – enough has been written about this already. But he's very human, a big bear of man with warm eyes who wants to reach out and be friendly, not frighten you with his grand persona. And he loves food. I reckon the adage that the way to a man's heart is through his stomach has never been put to a better test.
Sig. Pavarotti's ham, then:

Pavarotti's Glazed Ham with Seville Oranges
Peel the rind from three Seville oranges in short thick strips. Make a glaze with 1 cup honey, 1/4 cup orange juice, 1 cup brown sugar and 2 teaspoons Dijon mustard. All you do is peel the skin off a cooked ham-on-the-bone, score the fat into diamonds, stud the diamonds with cloves if you like (Sig. Pavarotti liked the cloves) and transfer the ham to a big roasting dish. Pour over the glaze. Mix the orange peel in any glaze left in the bowl and put them on top of the ham half way through cooking (they'll burn if you put them on the ham in the beginning) and cook the ham in a very hot oven, 225 °C, for about 45 minutes until a deep golden colour. Serve hot or at room temperature.
Tags: glazed ham, Ham, Seville oranges, Sig. Pavarotti