Spectacular start to Adelaide food foray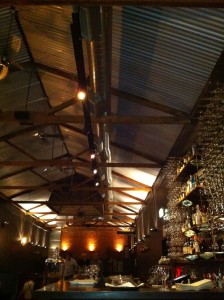 a great spot
Press Food & Wine
40 Waymouth Street
Adelaide SA
Tel (08) 8211 8048
There is exceptional food to be had at this establishment. Shared plates of fat strips of zucchini scented with nutty garlic and fresh mint, topped with blobs of cotton soft Persian yoghurt; a whole grilled chorizo sausage with small fiery chillies and a smoky choko sauce; the best morcilla, not fried to a salty crisp as is the way of the inexperienced, but deeply flavoured, savoury, rich, with a creamy wombok and kohlrabi remoulade sauce; and mum's Dutch veal croquettes, thick lozenges of crisp flaky crumb coating housing a soft centre of savoury veal that  bursts in your mouth.
For mains, sticky braised beef ribs with coriander and chilli, carving knife and fork on the sideb but the meat falls away from the bones with a nudge; meltingly tender minute oyster blade set off with crème fraiche and the tang of capers; and, sigh, roast pork belly. But roast pork belly to die for – so much crunchy fat it is criminal, so much succulent pork meat you can afford to share, so much glorious flavour that each mouthful is pure joy. The richest celeriac puree to go with it, just a spoonful, and a little confit of olives, onions and anchovies.
God even the shoestring fries were the best in an age of dry lifeless unsalted sticks of nothingness.
The Press, restaurant and bar, set up in an old printing press building, high ceilings, fans spinning, top-notch wine and table service. And seriously good food.