Baby Johnny's first radish in fine company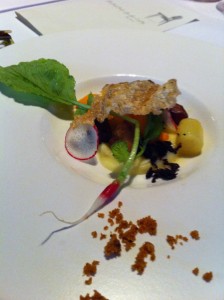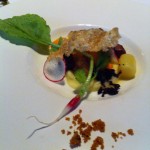 I'm not sure that something described on the menu as PIGS NIPPLES would appeal to everyone, but it certainly intrigued me. To be fair, the menu was shaping up into a culinary adventure, with more than a dozen tastes and textures on each small plate. But don't think BIG food, shrink it all down, deconstruct, reduce, grate, fluff or foam, and present as microdots, squirts, smears, tiny tumbles, mini cubes and baby crumbles. Like works of art, of course, but it's food, so tuck in you must. Dunk, slurp, run the finger over the plate. It's that good. Lift up the wafer of pork crackling, munch to a shattering in your ears, Asian spices tingling the back of your nose. A bed of richest, sticky velvety potato puree. Thin shards of dehydrated carrot barely bathed in the deep-fryer until taught. Milk powder, reduced, caramelised, finished off in beurre noisette, like a scattering of crushed biscuits on the edge of the plate. Crumbled black pudding, meaty, lightly salty. Dense nuggets of fondant parsnip. A whippet of a radish a toddler could grow seemingly just a garnish, but its mustard-hot bite cleans the richness.
And the nipple. Where is it? Like a button of sweetish fat belly pork, panko-crumbed and deep-fried, it's hidden in the middle of the melange. A discrete bite and its gone.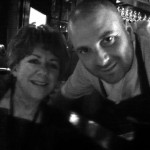 An exceptional dish, and just one on the menu at The Press Club, Melbourne.
Chef George Calombaris
Address 72 Flinders Street Melbourne