Thursday, March 21st, 2013
Yes, that was me, last week, traipsing around Hawke's Bay with friend Marg, visiting wineries, a figgery and an olivery (mmm, unusual that last one!). We only had two days, so with not a minute to lose, we got to work and ate and drank as much as we could from the moment we flew in until we flew out again. That's only fair. We'll stay longer next time.
Napier is quirky, and there are plenty of great places to eat here, but it was getting out and about to the wineries and food producers that gave the biggest thrills. The two standouts were Elephant Hill winery restaurant for lunch, and Te Mata Figs.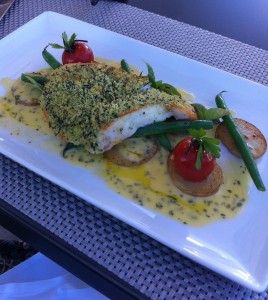 Elephant Hill winery and restaurant
Elephant Hill is just a short drive out of Napier on the coast at Te Awanga.
The setting is breath-taking and the food stunning. When seated in the outdoor area of the restaurant you feel as if you have been dropped in amongst the vines. It's quite beautiful. In front is the ocean and to the right Kauri Cliffs, which change with the light, from grey to brown to white to gold when the sun sets on them.
I had an amazing piece of groper with a brioche crumb topping in a tarragon beurre blanc sauce. It was superbly cooked, just falling into flakes with a nudge of the fork. And I shared a dish of smoked and braised pork belly with a pea shoot salad and orange mascarpone.
All the dishes are matched with wines – and what wines! Yes, you go there for the food, but it really is the complete package with the architecture, the immaculate grounds, the scrumptious food and the superb wines. The syrah we tried had eucalyptus on the nose, and a smoky bacon flavour. Yum! All the wines are hand-picked, hand-sorted and hand-crafted. You need your hand to drink them, too!
Te Awanga
---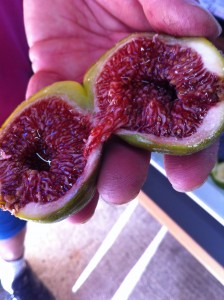 Te Mata Figs
The figgery (Te Mata figs) in Havelock North is a cool place to visit. Loved the people. They have a staggering 3500 fig trees in total, with 23 different varieties ripening at different times. It's fig Heaven! And their figgery is open to the public 6 days a week during the fig season – that's March through to May – and you can order them online. I couldn't resist – just got a big box of them today! The rest of the year you can buy their products at the Hastings Farmer's Market held every Sunday.
One of the simplest and most delicious treatments for figs is to pair them with prosciutto, soft white goat's cheese and a drizzle of lemon or walnut oil. Or make a cross in the top of each fig, stuff in a little goat's cheese or baby mozzarella bocconcino, drizzle with extra virgin olive oil and bake for 10 minutes. Scrumptious!
Havelock North
---
Trinity Hill
I also visited Trinity Hill winery to catch up with my mate John Hancock and got to drive to the top of the Gimlet Gravels, a smallish pocket of land (I think 850,000 hectares) owned by a collective group of wine producers which includes Trinity Hill. There was a river here long ago but it dried up leaving the stony bed. In the 1980's it was discovered as being perfect for growing grapes. The stones are piled up around the edges of the vines and they absorb sun then radiate the warmth during the night. It must work because since 2001 wines from Gimlet Gravels have won 653 Gold Medals and 215 wine Trophies!
Trinity Hill are well known for their Chardonnays and Syrah among other wines, but if you ever get the chance, try their sweet wine 2010 Noble Viognier from Gimlet Gravels. It is so lush, just jumps out of the glass and wraps itself around you with all its gorgeous ripe lemony fruits.
Hastings
---
Orcona
I love the chillies and peppers grown at Orcona in Napier. We called in for a visit and were fed just-picked fat and crunchy peppers, as sweet as apples, then had a taste test through some of their hot condiments. I'm a big fan of their smoked paprika – it's great as a hot and smoky sprinkle and in cooking.
Napier
---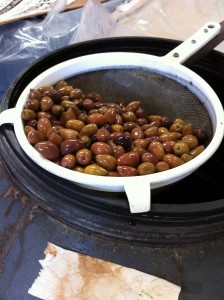 Telegraph Hill
Telegraph Hill in Hastings is another place to put on the foodie map. Geoff Crawford is a helluva nice guy and he's probably the biggest grower of table olives in NZ. He's got several varieties growing, and along with extra virgin olive oil, he makes a range of flavoured olives and a range of drizzles, spicy sprinkles and pastes, most featuring the olive. What I noticed as I travelled around is that the growers and producers seemed really supportive of each other, stocking each others products in their small roadside stores. You'll find the distinctively packaged Telegraph Hill products throughout NZ.
Havelock North
---
Origin Earth
This place is interesting – it's a small milk processing business using local Hawke's Bay milks and turning them into fresh yoghurt and cheeses. The milk is fully traceable back to the farm it comes from and although it is pasteurised, it is not homogenized. The milk is also sold fresh and is gaining quite a following.
Havelock North
---
Moana Park
We also visited Moana Park Winery in Taradale, and it's quite charming. The guys here are following a naturally low-allergen regime. Their grapes are grown organically without spray and the wines are made without fining agents (egg white, gelatine, milk etc). And no sugar is added. The 2012 Viognier which is rich with jasmine and ginger notes, stonefruits and spice is quite delightful.
Napier
---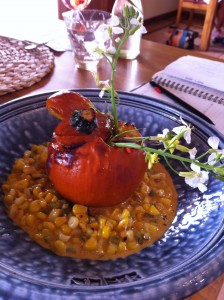 The Village Press
The Village Press olive oils are well known throughout NZ. Over 20 varieties of olives are grown, and there are over 30,000 trees. Their base is at the Sileni Estates winery in Hastings, but you can buy their oils and related products at many outlets. They make a very good and affordable product.
Had a really nice lunch at 1024 restaurant in Hastings- It's very relaxed and informal but with surprisingly good food
I ate a gorgeous tiny baked minikin pumpkin on fresh corn with romesco butter, and fresh figs with blue cheese and fig vinaigrette. They are certainly using local products!
---