Thursday, August 22nd, 2013
Yesterday, it is true, I started with the concept of a chilli con carne without the carne, but once I got in the kitchen and fired up the slow cookers, I got quite creative. The result is two inexpensive dishes which are simply bursting with flavour. If your budget allows, you can add a few tweaks, but basically they are the sorts of dishes which full stomachs cheaply and leave everyone satisfied. They are also really easy to make and once everything is in the slow cooker, there is nothing more to do until serving time. And they are good for you, as all the goodness from the vegetables stays in the liquid – unlike vegetables which are cooked in water and drained (and half the goodness goes down the plughole!).
I had my kids in mind when I made them – they are perfect flatters' food! In fact, one of the best things a parent could do is buy their son or daughter a slow cooker when they leave home. I've got my old crockpot which still chugs along, but I've just got a new Goldair Slow Cooker and I love it more because it's got an oval bowl making it easier to fit chickens and joints of meat with vegetables.
One of the dishes is made with dried beans, and it takes 3½ -4 hours to cook – there is no need to soak dried beans before cooking in a slow cooker (except for kidney beans), and the other one is made from canned beans and canned tomatoes which you can often pick up really cheaply, and takes a little less than 3 hours to cook. My son plays soccer on a Saturday and these are the perfect dishes for him to prepare before a game, and to return to afterwards when he is cold, exhausted and starving.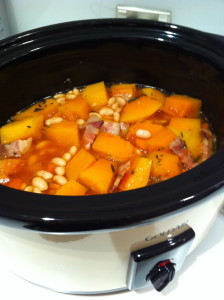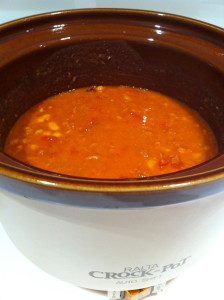 You could make plenty of changes – use kumara in place of pumpkin, add a bag of baby spinach leaves at the end (they wilt in a matter of seconds), and use different types of beans and herbs to flavour. Leftovers are great, developing more flavour, or you can leftover potatoes or rice to them for the last 30 minutes to heat through, or serve the soups over steaming bowls of baby new potatoes or rice. Cheap. Cheerful. Good for you. And, importantly, simply scrumptious.