Saturday, July 20th, 2013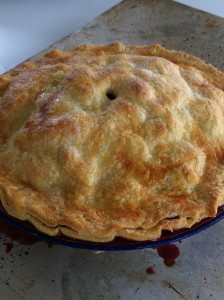 If you've followed my work I'm sure you'll know that I love Italian and Mediterranean food…. but my next fave is Indian cuisine. I discovered spices in my teens – my mother was liberal with cloves, allspice, ginger and cinnamon in her cooking, like other cooks of the time, but not much else – and the first time I cooked something vaguely 'Indian', it was truly a light bulb moment. Talk about sniff, crush, sniff again, and reel with excitement… I've been in love with them ever since. My close group of friends at the time (and they are still my close group of friends, so food does create enduring bonds) also loved cooking Indian and we'd have these elaborate feasts where we cooked for days then just pigged out on the most glorious spicy dishes. The best thing was that there was always heaps of leftovers and they mostly tasted even better the next day.
I know some people have a hang up about chilli and are afraid of its heat. But this class is not all about chilli. While it can underpin other flavours, it doesn't have to overtake them. Spices vary from earthy, citrusy, woodsy, toasty, floral, sweet, hot and pungent and learning how to use them to maximum effect, to give everyday dishes a bit of oomph or a fragrant lift is great fun, so come along and join in.
---
Spice Up Your Life!

Thursday 1
st
August
OR
Saturday 3
rd
August
1.00-4.00pm approx.
$125.00
This is the Ultimate Pie Class! I'm a sucker for homemade pies and tarts and over the years I've amassed a delicious range of fail-proof recipes. I reckon if something tastes good, it usually tastes even better when topped with a cap of golden flaky pastry! But there are plenty of pitfalls – no doubt we all agree that there's nothing worse than a soggy bottom! (Tee hee.) Or sad pastry that shrinks down the sides of the dish and let's the filling overflow all over the oven floor. (Grrrr.) So there will be a good bag of tricks and tips to trot out. I'll show how to make rich shortcrust pastry, rough puff pastry and a tasty cheddar pastry, and I'll show how to work with puff pastry, too. These are all good skills to master and will enable you to turn out spectacular pies and tarts that truly bring out the 'oh's and ah's'. Although I am an advocate for making food from scratch, I'm happy to give advice on the best brands of ready-made pastry if that's what it takes to get you cooking pies. Included in the recipes will be a gorgeous potato-topped fish pie, the best-ever picnic pies (Cornish pasties!), and Greek pies, French tarts, quiches, and flans. It's going to be a pie extravaganza and I can't wait! I also judged the NZ Pie Awards for 8 years and have a bit of inside goss from that time!
---
A Bunch of Hot Tarts
Thursday 15th August
OR
Saturday 17th August
1.00-4.00pm approx.
$125.00
Along with Indian food, I am also in love with 'Middle Eastern' cuisines. This allows a pretty wide dip into the global culinary bucket and includes Palestinian, Persian and modern-day Iranian, Turkish, Israeli, Egyptian and Arabic dishes. Woo-hoo! So many gorgeous ingredients to get acquainted with – think chickpeas and burghul, cumin, cinnamon, saffron, sumac, allspice and paprika, mint, coriander, parsley and dill, and throw in honey, dates and figs, pomegranates, pistachios, almonds, walnuts, pine nuts, sesame seeds, flat breads, filo pastry, yoghurt and rose and orange flower water and… you've got the most exotic, tantalising array of ingredients imaginable. So hop on the magic carpet for an unforgettable culinary ride – this class is not to be missed.
---
From Saffron to Sumac
Thursday 29th August
OR
Saturday 31st August
1.00-4.00pm approx.
$125.00
Remember, that I am happy to write gift cards if you would like to buy a class as a gift for a friend or family member. The recipient can then take a class any time that suits (valid for 6 months from date of issue). And I am also happy to cater for private events and special occasions, and for corporate groups.
---
Each class covers around 7-8 recipes, and variations or extra recipes are given.
All food is sampled and matching wines are served.
There are giveaways and prizes. New products are sampled.
All eggs are free-range from my own chickens. Lemons and other citrus are from my trees, and herbs and vegetables, well those the chickens haven't eaten, are from my garden.
It's a lovely way to spend an afternoon – I enjoy it, too!
To book a class, email your choice to biuso@clear.net.nz
I'll reply and confirm there is a space on your chosen class, then once I receive payment, I will confirm your place.
Classes are held at
2 Faulkner Road, 
Northcote Point (7 minutes from the CBD).
Gift cards are available.